UGLY SWEATERS ON PARADE!
---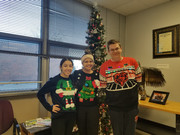 1st session Ugly Christmas Sweater contestants!
---
As our 12 Days of Christmas comes to a close, today's activity and contest was an Ugly Christmas Sweater Contest! We had some lovely ugly sweaters! LOL.
The winner each session got a gift cards and sometimes we had a runner up, who also got a gift card. Everyone got to fill out a ticket for participating and will be in tomorrow's big drawing for the 12 Days of Christmas gift cards! It's been great fun and also rewarding to help those in need.