Thanksgiving Buffet at Wilco Area Career Center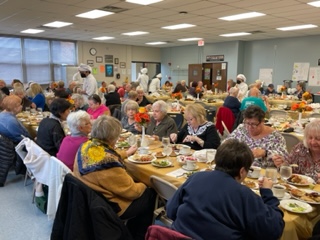 The buffet allows students to implement learned skills for working the front of the House as well, the back of the House positions with the guidance of second-year students.
Today the students completed their first culinary experience serving the public and staff at the Annual Thanksgiving Buffet.
Anyone interested in supporting a Culinary Arts student's experience may show their support by participating in their annual fundraiser. Please visit https://creativelyintentional.com to help FCCLA earn 40% of the profits! Use code FCCLA2022 to remove shipping charges (you'll pick up your order at WILCO November 21st or 22nd) and to automatically tag your order for our fundraiser: https://creativelyintentional.com
The Culinary Program has 71 students enrolled this semester.
Thank you to all the attendees for making this experience a huge success for our students!