Puppy Therapy - Who Knew?
---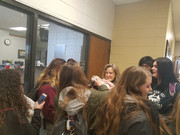 Mrs. Kaufman and Reagan being swarmed in the hall
---
Mrs. Kaufman's family just got 2 puppies. She decided to bring them in for the day to share with the students. We've never seen such a reaction before!!! It was wonderful therapy for those stressed out students and the preschoolers loved petting them too. We had 3 month old Reagan, who is a Pointer mix and 2 month old Rosie who is a Shepherd mix. Those puppies were worn out from all the loving! We never knew it was such good therapy. We should have a puppy on staff at all times!!!!