OPEN HOUSE A GREAT SUCCESS!
---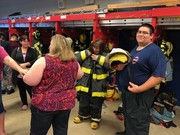 When your Mom is trying to get on your turn out gear
---
Our 2018 Open House was a great success! Thank you to our current parents and students and all those possible future students who came through the building last night! We appreciate our home schools reaching out to all their parents to let them know about this event! We've never had so many people in the building before. We appreciate our staff and all the hard work they did to prepare and our students for helping out showcasing our programs to the visitors. Lots of smiles, lots of new friends made and lots of good food! S-U-C-C-E-S-S!